With skilled and professional technicians, drivers and support, you can take advantage of our secure warehouses, fully equipped fleet of vehicles, advanced stock and tracking technology, and moving equipment to suit your specific needs down to the smallest detail.
Our experienced managers will identify safety requirements, engineering solutions, training needs, environmental impacts, legal compliance and technical inspection, so you don't have to, for a guaranteed safe and timely delivery of your equipment.
For your peace of mind, and the safe loading/unloading of your sensitive equipment, each vehicle is equipped with air-ride suspension, padded interiors, tail lifts, power-handling tools, spreading plates and load-securing systems to cater for high, wide and heavy loads.
McCluskey Ltd has developed a fleet that not only carries out normal deliveries, but also manages a wide range of specialist services. These range from delivery to specialist sites, delivery via specialist vehicles, or indeed delivery to point of need within a delivery point..
Specialised Transportation Services Include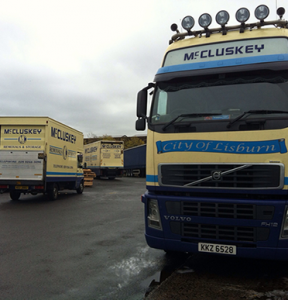 Specialist end-to-end transportation of fragile and delicate items
Transportation of Medical Equipment
Transportation of IT Equipment
Transportation of Arcade Games Machines
Transportation of Pianos
Assets loading / unloading
Waste disposal handling
Exhibitions
End of lease returns
Asset reclamation
Asset Collections
Relocation
Site surveys and risk assessments
Installations
Project Management